Hi all!!
A new owner of a QL here from Brazil but it is dead atm.
Before being registered I found a lot of information here that lead me to do some improvements on this dead QL.
But now I need your assistance to try to fix it.
I will try to give as many information as I can.
It is an issue 5 board. It arrived giving me these screens while booting:
Reading some posts I found it could be RAM or a dead 74LS157 or the 74LS245. Removed the two LS157 and using an IC tester found one blown. Replaced them using sockets then I got a white screen.
Digging more info, found white screen is related to bad RAM or the 74LS157. But as I have already replaced them, I decided to check the RAMs. So I found Minerva ROM as able to check them.
Downloaded it and installed following this picture below as I didn't found any other information (or misunderstood them) about configuring the board jumpers to use ROM/EEPROM.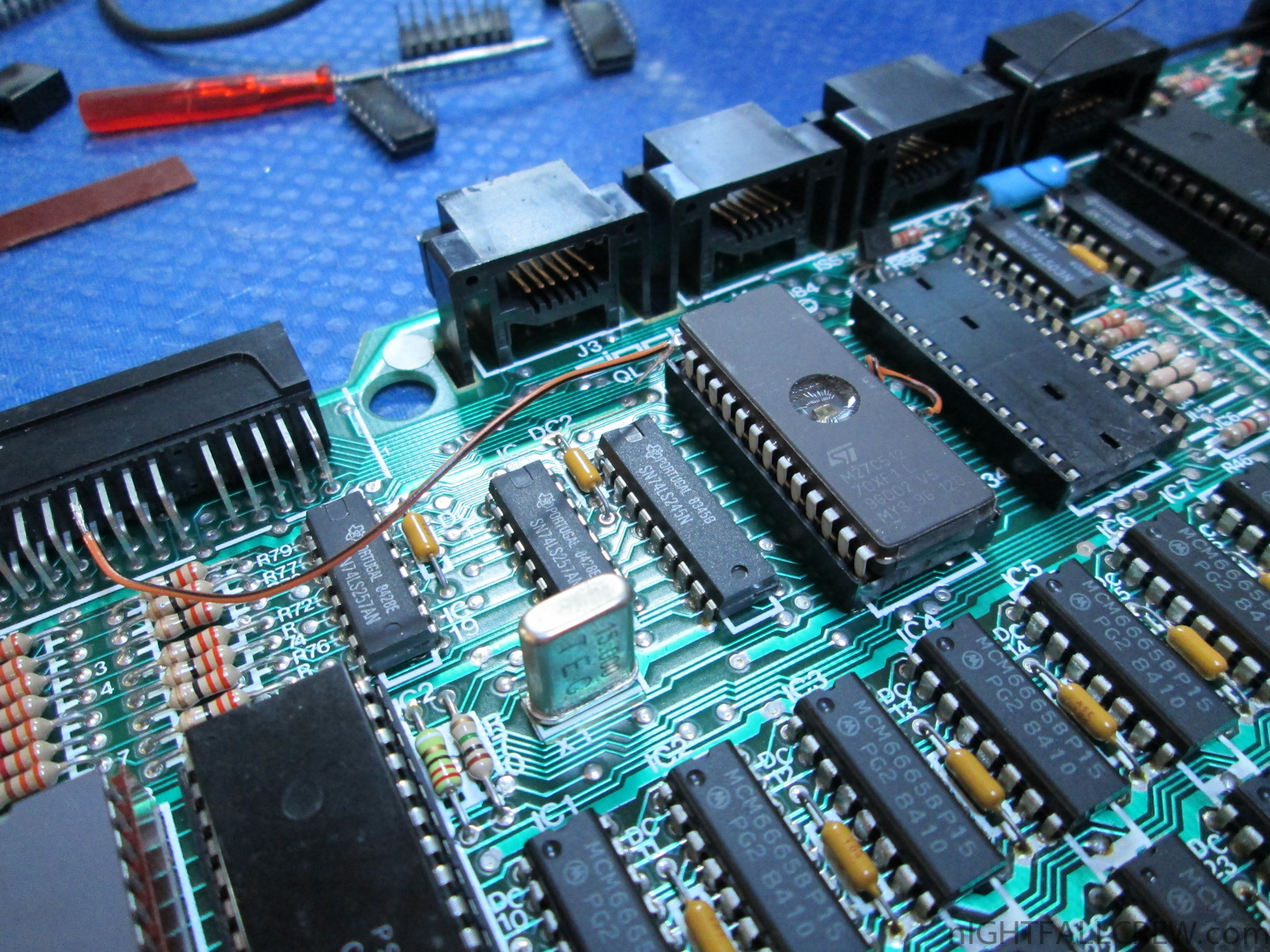 This lead me to some more questions, like: does it work correctly this way or I need to install following this schematic:
Why I am asking this? Later I am going to show how strange is the behavior of this QL.
When I booted the MInerva 1.98 for the first time I got this screen:
For me it was clear I still have problems with the LS157 and RAMs.
But now the "stranger things" started to happen.
I only can get a "normal" image with the error from Minerva if I use the DEAD LS157...
Something like this:
But why if the LS157 is broken?
If I use two good LS157 I can´t read the screen.
One guy from the QL group on FB send me a Basic program that I could find the RAM IC by entering the info from the Minerva boot. I used it on a emulator and was given as that IC1, IC2 and IC3 were bad each time I entered the info (I replaced IC2 then IC3 was bad then IC1). Now It still wont boot properly and says IC1 is bad (I have about 30 4164 new ICs here and all of them won't let me pass this error)
This lead me to replace 74LS245. No change.
I removed the Minerva ROM and reinstalled the original one. And messing with the LS157's, I used two 74HC157. I know it is not the correct but give a try. When I combined the HC157 with, and only with it, the original good LS157 from the QL, i got this screen:
And now I am really lost because, If I try to boot Minerva with this "setup" (HC157 and LS157) I can't read the error code screen.
Would you guys give me any advice? Is it a bad ULA? Bad ROM? I don't want to mess the board more than it needs.
Thanks in advance for any help.
Cheers.