Search found 791 matches
by Cristian

Sat Oct 24, 2020 7:48 pm
Forum: Hardware
Topic: motherboard mod
Replies: 6
Views: 534
I found the following picture about a modified (or repaired?) motherboard.
I've already seen something like this, but I can't remember the reason of such modifications... any idea?
by Cristian

Thu Oct 01, 2020 8:18 pm
Forum: Hardware
Topic: RGB to VGA
Replies: 24
Views: 2747
Derek_Stewart wrote:but remember the QL display has a overscan, which produces a larger display than most RGB outputs.
Yes it's true. Anyway, also a 20 € Gonbes board can (almost decently) cope with QL overscan. But yes, you're right: this may cause issues.
by Cristian

Wed Sep 30, 2020 11:37 pm
Forum: Hardware
Topic: RGB to VGA
Replies: 24
Views: 2747
I've just found this device I didn't know.
It accepts some kind of RGB input. Probably it's worth investigating...
https://www.serdashop.com/MCE2VGA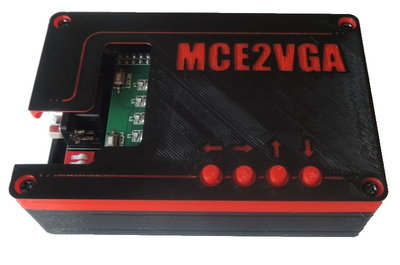 by Cristian

Fri Sep 11, 2020 8:01 pm
Forum: Hardware
Replies: 90
Views: 7012
For me, the minimun upgrade requirements would be:
some more colors (not necessarily thousands)
some more CPU speed
some better sound (at least AY sound chip)
by Cristian

Tue Aug 18, 2020 12:55 pm
Forum: Hardware
Topic: Issue Tx boards discussions
Replies: 61
Views: 9817
What about utilizing an existing (thick) keyboard? Would it be adaptable as a case? https://ae01.alicdn.com/kf/HTB1GYefbu285uJjSZFwxh7.cVXaR/Thick-PBT-62-Keys-Mechanical-Keyboard-Keycaps-White-Black-Blank-Printed-OEM-Profile-ISO-Key-Caps.jpeg_q50.jpeg https://cdn.ecommercedns.uk/files/8/232808/9/913...
by Cristian

Mon Aug 17, 2020 9:55 pm
Forum: Software & Programming
Replies: 7
Views: 680
Derek_Stewart wrote:Hi,

This also runs on the Q68 under SMSQ/E in DISP_MODE 1 or 512x256
The final fractal zoom sequence is tediously slow. Is it smoother/faster with Q68 instead?
---